Hello friend!
I thought I'd write a quick note to say hello, and to recap some of the recent travel I was able to enjoy. There's cool artwork toward the end of the post, so stay with me, art-lovers!
As any regular reader of my stuff would know, I've been to a lot of comic-cons over the years. Usually as an exhibitor, but every now and then, I'm lucky enough to attend just as a fan. These fan trips are often to Calgary Expo, for a few reasons. As discussed in other posts, Calgary gets some amazing guests, and is easier to travel to than more coastal destinations. I exhibited at the Calgary show once, and it went OK, but not spectacularly, as the cost to stay there for a four day show was pretty steep. Add to that the cost of tabling has only gone up and up, and it's become a show I'm more likely to attend as a fan.
As soon as Calgary Expo announced they'd be bringing Vincent D'Onofrio to the prairies, I knew I'd have to attend. In our family, we grew up on Law and Order, and my very favourite series within that universe was certainly the wildly underrated Criminal Intent franchise. Vincent D'Onofrio brought his usual outside-the-box brilliance to the series, creating in Detective Robert Goren a truly original and fully realized character (in addition to all his other incredible performances and indelible roles). Criminal Intent became appointment viewing in our home growing up. Even after I'd moved out of my parents' house, I would come visit each Sunday to watch a new episode as a family. So when we learned that he'd be only a few hours' drive away, my sister and I quickly made plans to attend.
---
You've Got a Friend
Attending a comic-con with a friend can be a tricky thing. There's an overwhelming amount of things to see and do, and no one has identical interests. Add to that the fact that travel in general can bring out the crankiness in people, and it can be a touchy experience. That's why I was so lucky to attend with my sister, Shawna, who is easy-going, and as interested in pop culture stuff as I am.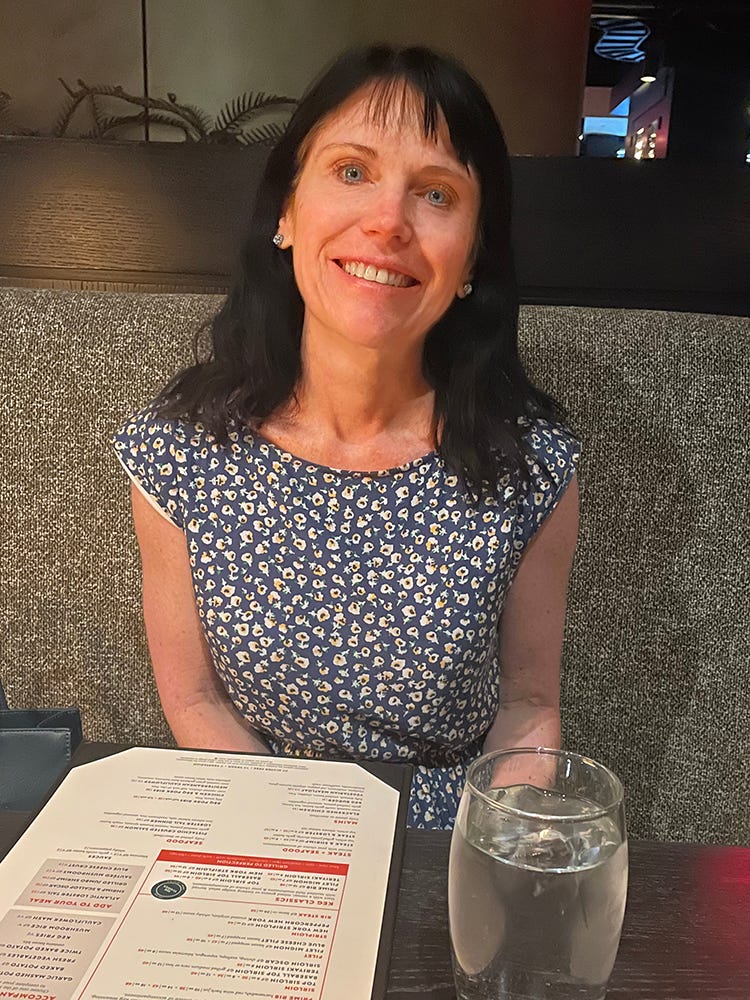 Plus, we have a shared interest in completely spoiling my kids with toys and gifts from the show floor, so she makes an ideal travel companion.
We planned to only attend the Saturday of the four-day show, as the initial announcement stated that Mr. D'Onofrio would be attending that day only (this was later changed when his Daredevil co-star cancelled, so they added additional days to meet Mr. D'Onofrio). Saturday morning we were informed by the show via e-mail that on-site parking was not available due to renovations being performed on the venue. This was the first sign of things to come as organizationally, this Expo was more chaotic than any I've attended. The Expo had been on for two days already, and the construction had been happening for months, and they only inform attendees about limited parking on the third, and most crowded day?
The early hours of the show were great—the sales floor was crowded, sure, but we could move freely and get a good look at the vendor booths, grabbing the must-buy items and making notes of items we wanted to come back for.
Speaking of must-buy items, I found a white whale of my own on the sales floor—a decent shaped copy of the Superman "Time and Time Again" trade paperback. As a lifelong Superman comics collector, I have every issue of Superman published between 1986 and 2019, but they're all stored in boxes and crates, so it can be a hassle to access certain storylines. Now that my kids are getting into comics, it's been helpful to have reader copies or collections of my favourite arcs. I have almost all the ones available from my favourite era of Superman comics, but "Time and Time Again" had eluded me. When I'd find a copy online, they wanted astronomical prices, and even more expensive shipping, so I held off on ordering one. I'm glad I did, because I found one just sitting there waiting for me in the booth for Calgary's Redd Skull comics, and for a great price.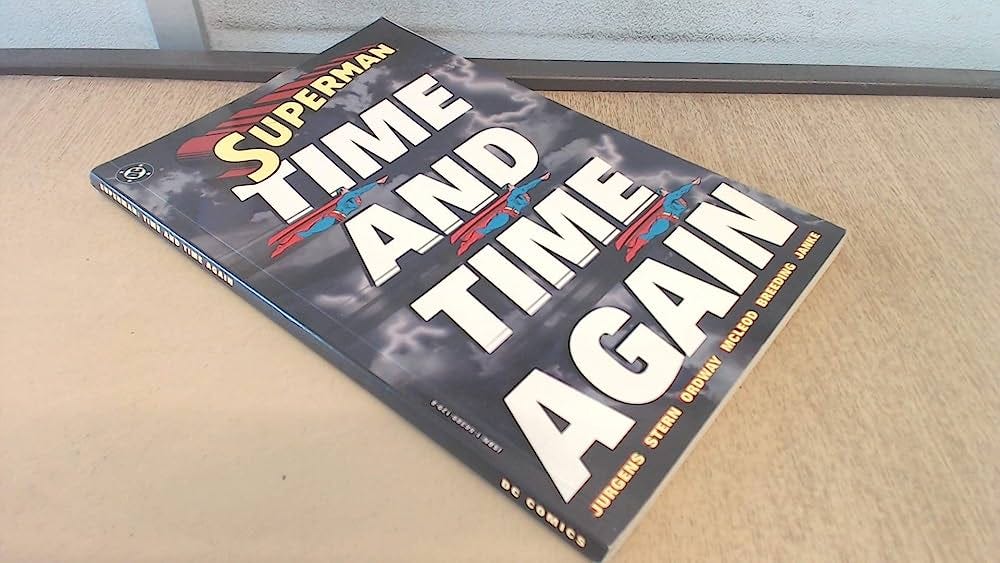 So finally getting my hands on that book was a real highlight, and I can't wait to read it with my kiddos.
---
Vincent D'Onofrio: Better than Buttered Parsnips
The reason we came to Calgary was to see Vincent D'Onofrio, and he didn't disappoint. His panel was at near capacity and he was charming, generous and personable.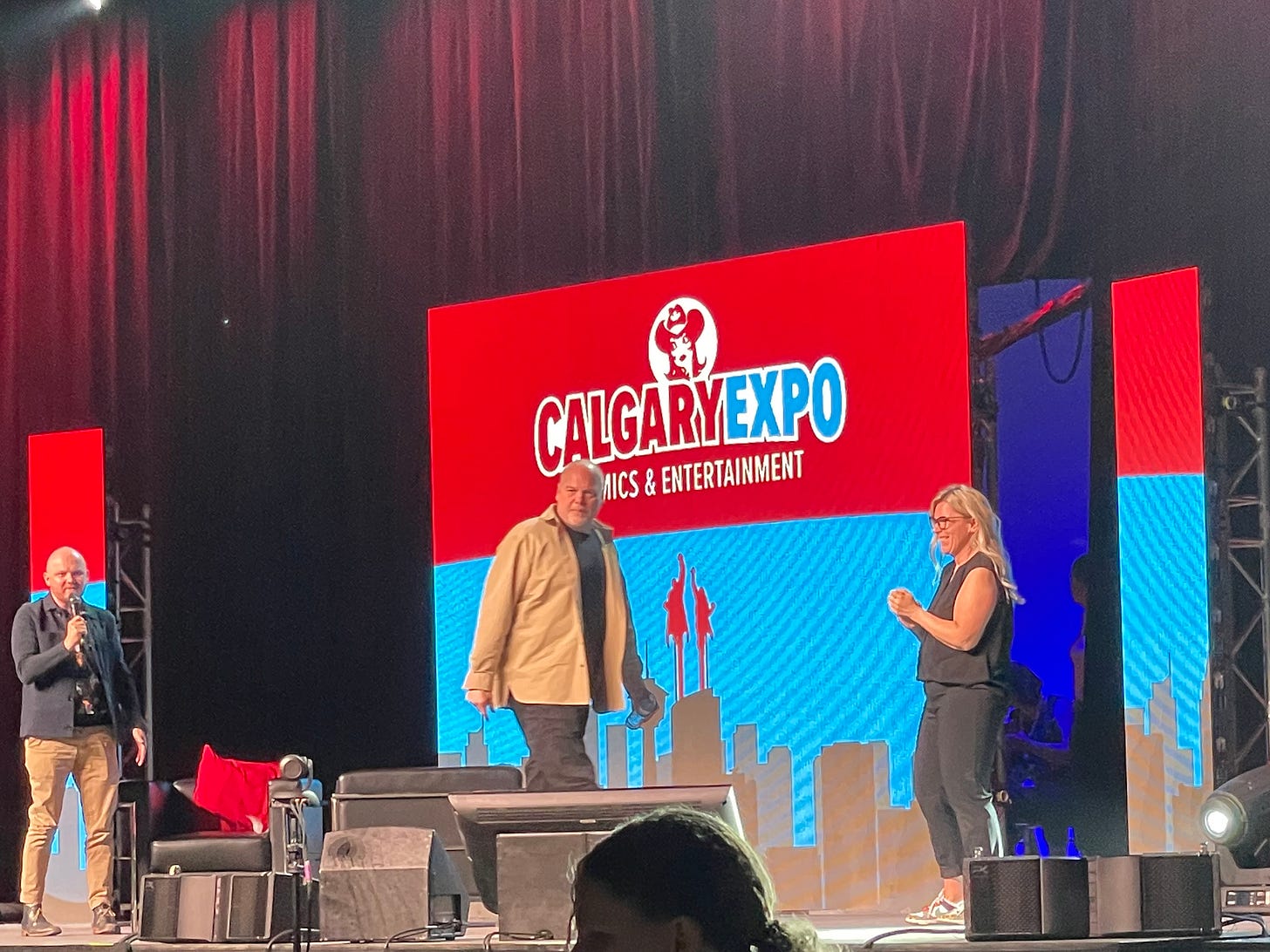 I know how difficult hosting panels can be, having had some experience at it, so I generally give the hosts a lot of rope. D'Onofrio's panel host Mike Morrison mostly avoided the pitfalls that hosts can fall into (making it about themselves is the big one) but perhaps focused on Mr. D'Onofrio's Marvel work a little more than I would have liked. But overall it was smooth, and there were plenty of great audience questions, so I was very glad I was able to attend. The only drawback was the lack of a barrier between the sales floor and the panel area, so when there was a vendor who was using a megaphone (and if you're wondering why a vendor was allowed to use a megaphone, like you, I am at a loss), it would detract from the panel discussion. At one point even Mr. D'Onofrio seemed distracted by the noise. Not great.
After the panel we lined up to meet Mr. D'Onofrio, and, again, the lack of organization was pretty jarring, especially having been to Calgary in the pre-Informa years, where something as simple as line management was better handled. Despite how tight, cramped, and confusing the line organzation was, we eventually made it to the front of our line, and were once again delighted by how kind and generous Mr. D'Onofrio was. I had drawn his portrait to get signed, and he really took his time with it. He looked at it for a very long time, and was kind and complimentary.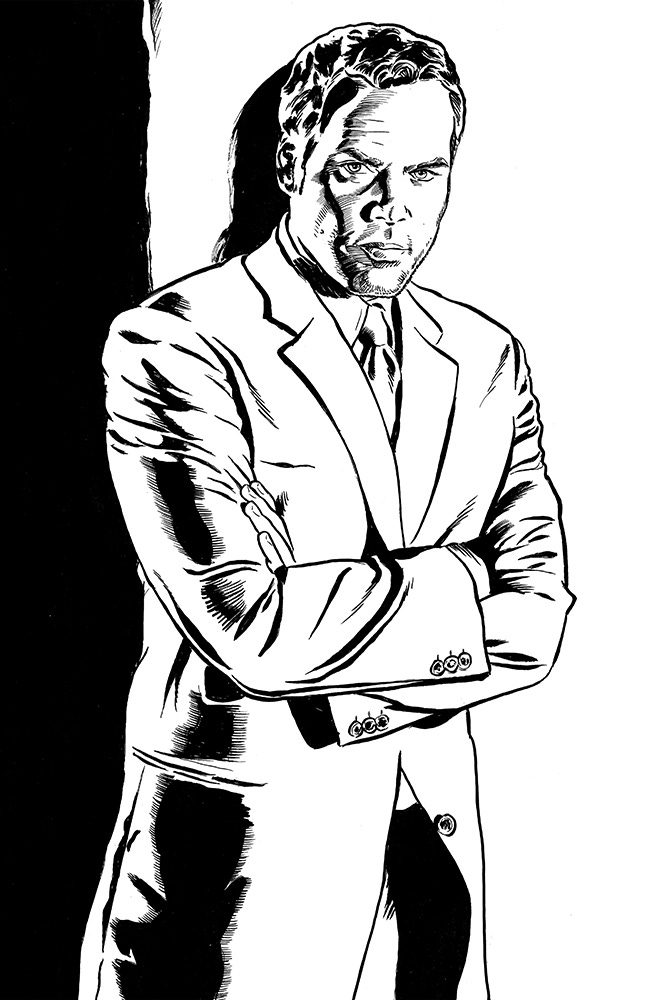 He said it was "very well done" and after examining it for a really long time, said quietly, "I'm glad you brought this, and showed this to me. I'm happy I got to see it." Which as an artist is about all I can ask for! He then signed it in blue, carefully chosen to complement the colours in the piece.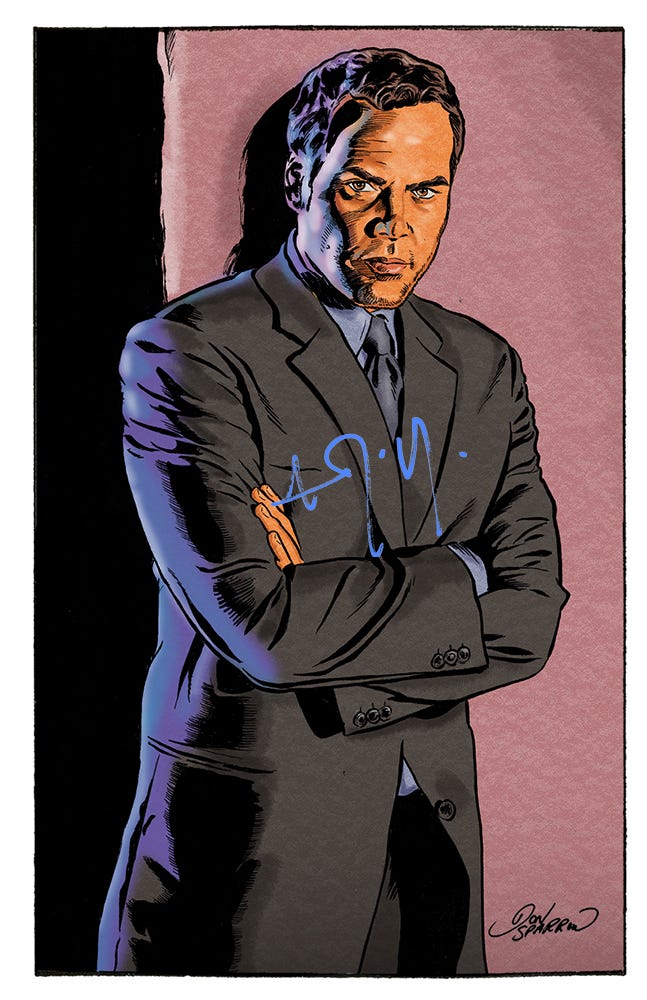 So while he had a serious and quiet demeanour, he was unsparing in his time for each guest he met, and really tried to give us a moment we'd remember.
Almost immediately after our autograph encounter it was time for our photo-op, and it also went well. We had considered asking him to do the "dip" with us (a unique interrogation technique his character Detective Goren would do from time to time) in our photo, but another fan asked him to do it a little before us, and Mr. D'Onofrio didn't seem that into it, so we just went for a simple, smiling photo. He put his arms around us, towering over us wee Sparrows, and then after the photo was taken, he said quietly with a nod, "I remember you."
Which, again, was exactly what you hope as a fan, to have made some kind of impression.
---
When Good Conventions Go Bad
The rest of our time at Calgary Expo is sadly better forgotten. By the early afternoon, the crowds got so thick, it was virtually impossible to move around, much less leisurely shop at the vendor tables. We were two able-bodied people, in relatively good health, but I can't imagine how difficult the show floor must have been for people with mobility issues, or those guests in wheelchairs.
Making things far worse was the show's indefensible insistence that each attendee scan in, and scan out when they entered or exited an area. So instead of the crowds getting to flow freely through the abundance of exit doors all over the various halls, every attendee was herded like cattle into a single exit, where a maximum of two volunteers would laboriously scan each guest as they exited. Theoretically, this could have been done to monitor crowd size in each area, but my guess is it was more about contact capture than fire marshall concerns. With that many people unnaturally funnelled into such tiny spaces, it's a miracle there wasn't a fire or some other emergency—restricting the exits that narrowly was at worst a recipe for disaster, and at best, a lousy way to organize a convention. Had someone pulled a fire alarm, I can only imagine the disaster that could have transpired once that crowd panicked. The same was true of the food trucks—there were simply too few food options for too many people, so to get any nourishment on-site meant waiting hours in lines. Which made for a hungry and cranky crowd, adding to the unpleasantness of the attendee experience. Add to that the late announcement of the lack of parking, the lack of autograph line wranglers, and it really felt like a step back for a show that was once the exemplar of how to get it right.
It appeared to me that Calgary Expo had not learned from the exact same issues from other years, and—once again—simply oversold for Saturday. Yes, it was exacerbated by the renovations, which meant a tighter space, but sticking to stricter limits on ticket sales, as well as using more of the pre-existing entry and exit points could have made the user experience a lot more tolerable.

Many stories have since emerged from the convention, about the Big Four building doors being locked hours early thereby killing sales for the vendors within, and other unfortunate decisions. Certainly that resonated with our experience—I had good friends exhibiting in the Big Four building, but after enduring a twenty minute exit line just to leave the BMO Centre, going through another endless line just to enter Big Four through the single entrace just felt like too much, so I wasn't able to stop in to say hello.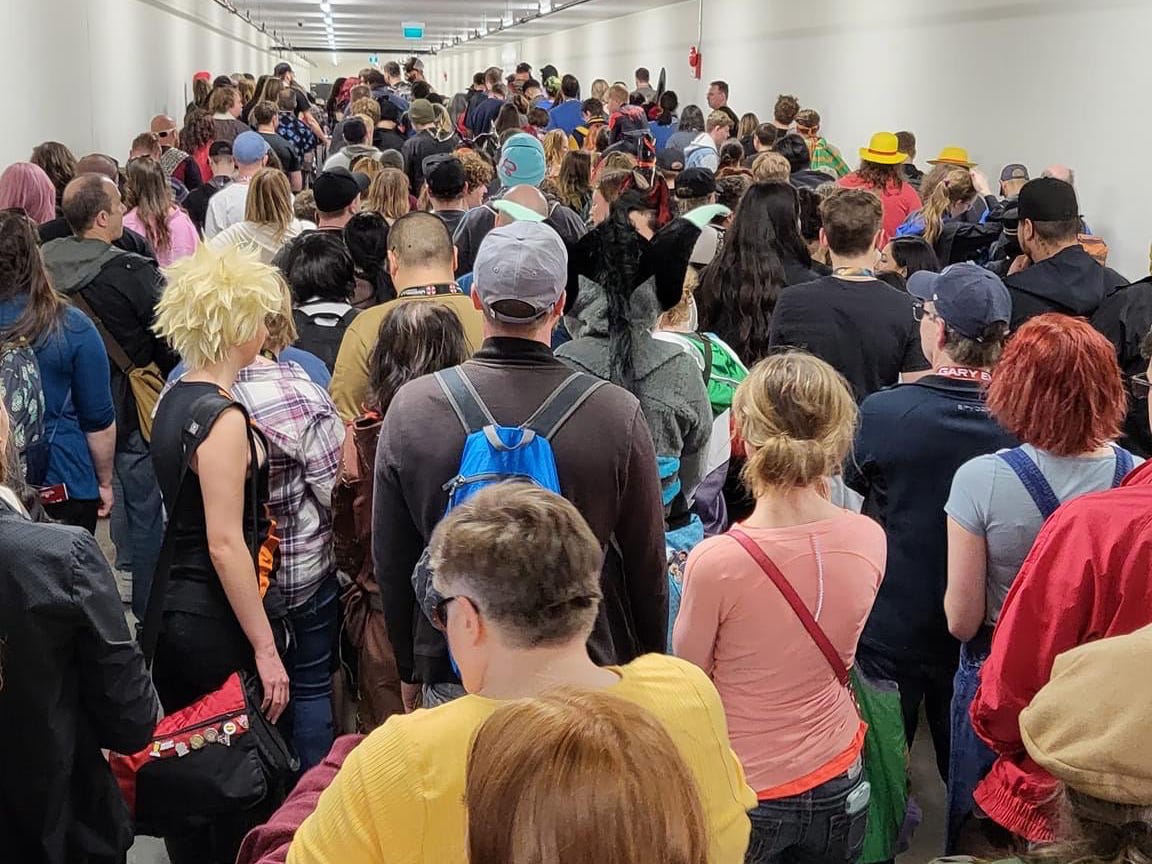 By mid-afternoon, we gave up, leaving the Stampede grounds for good. We were overjoyed at the opportunity to interact with a gifted artist like Mr. D'Onofrio, but felt regret and concern at the crush of the crowd. Calgary Expo does seem to be able to get marquee guests like no other Western Canadian show, but if forced claustrophobia and sardine-can walkways are the price of those guests, I think it'll be a while before I return to that particular show. Sadly, it doesn't seem like the problems at the 2023 Calgary show were unique to just Calgary.
Accentuate the Positive
On the plus side, Calgary is a vibrant and beautiful city, with friendly people, and an abundance of incredible dining options.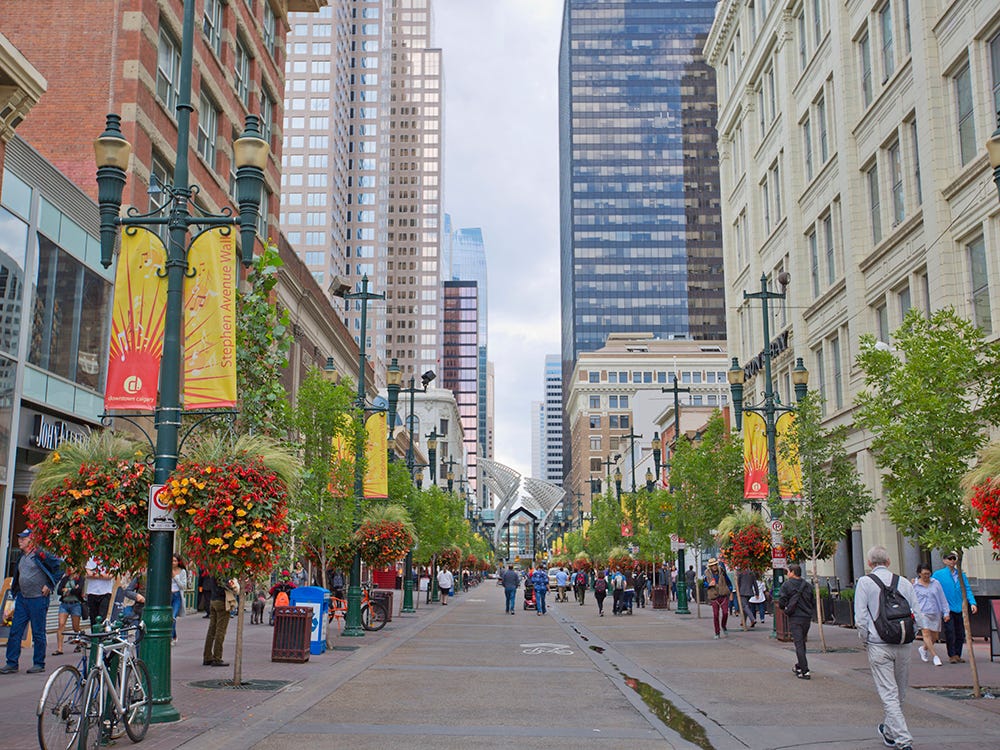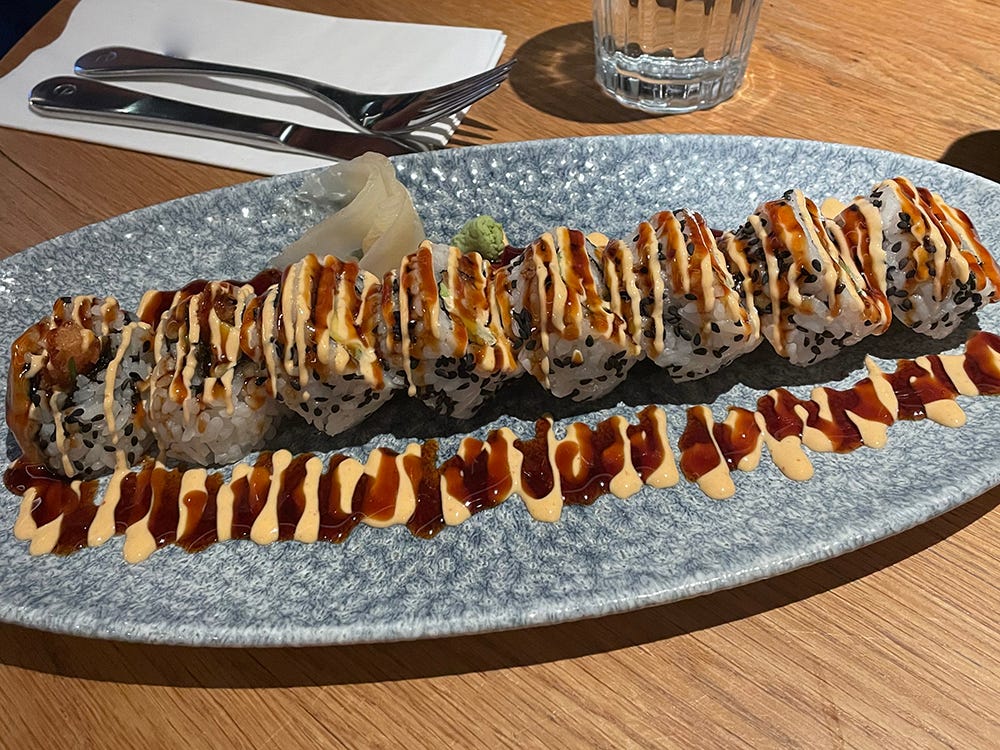 Our downtown hotel was clean and accomodating, and a great base of operations to explore the city.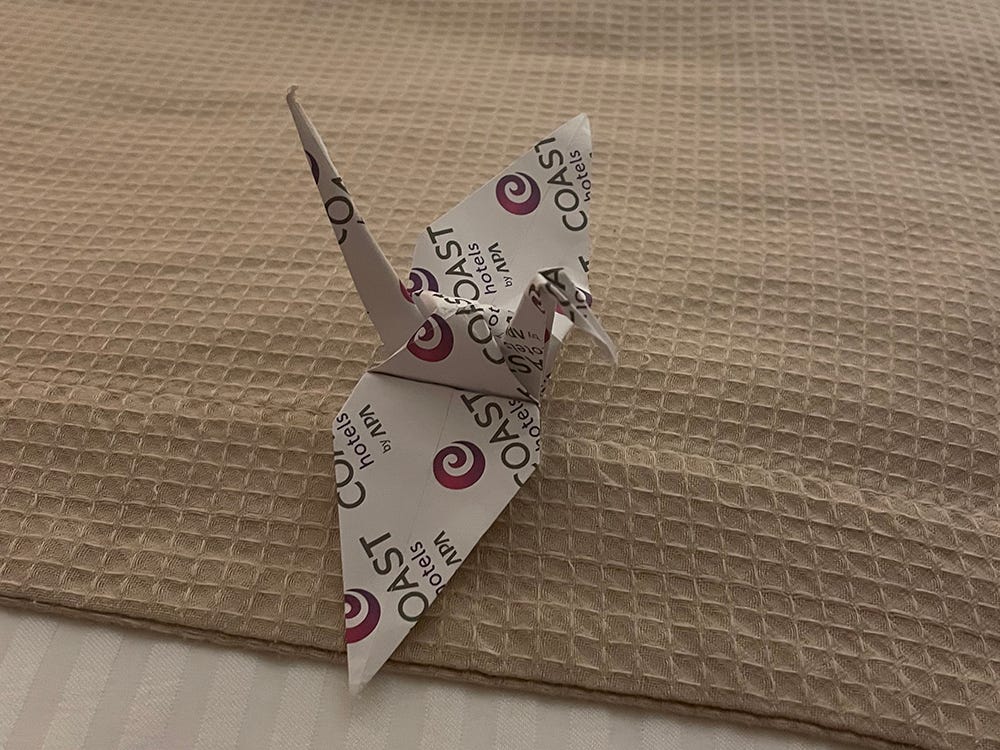 The very best part was getting to experience it all with one of my best friends, my sister Shawna. As we are both busy people—her far more than me!—it can be hard to find time to connect. So it was very special to have the better part of the weekend just to catch up and spend some quality time.
I'll have some more convention updates in future posts, talking about Saskatoon Expo weekend (and getting selected to host the Flash TV show panel) as well as more travel stuff, with a wrap-up on the Vancouver Comic Arts Festival. So please stay connected, and thank you as always for reading.
I love you.