Hello friend!

Welcome to another long overdue artwork post. I wanted to spotlight my ongoing collaboration with a good friend, Eric Anderson. I first "met" Eric online in 2015, when he was moving to Saskatoon, and asked his then-fellow CBC colleague Matt Kruchak who were some cool Twitter people worth following. Matt listed me as one of the "cools", and so Eric and I followed each other.
Not long after (and my memory of the details are a bit fuzzy on this) I hosted my first ever Blue Jays home opener party, and invited Eric along, as he would frequently post about Canada's beloved boys in blue. He came to the party microphone in hand, and did a radio story about our weird little baseball party.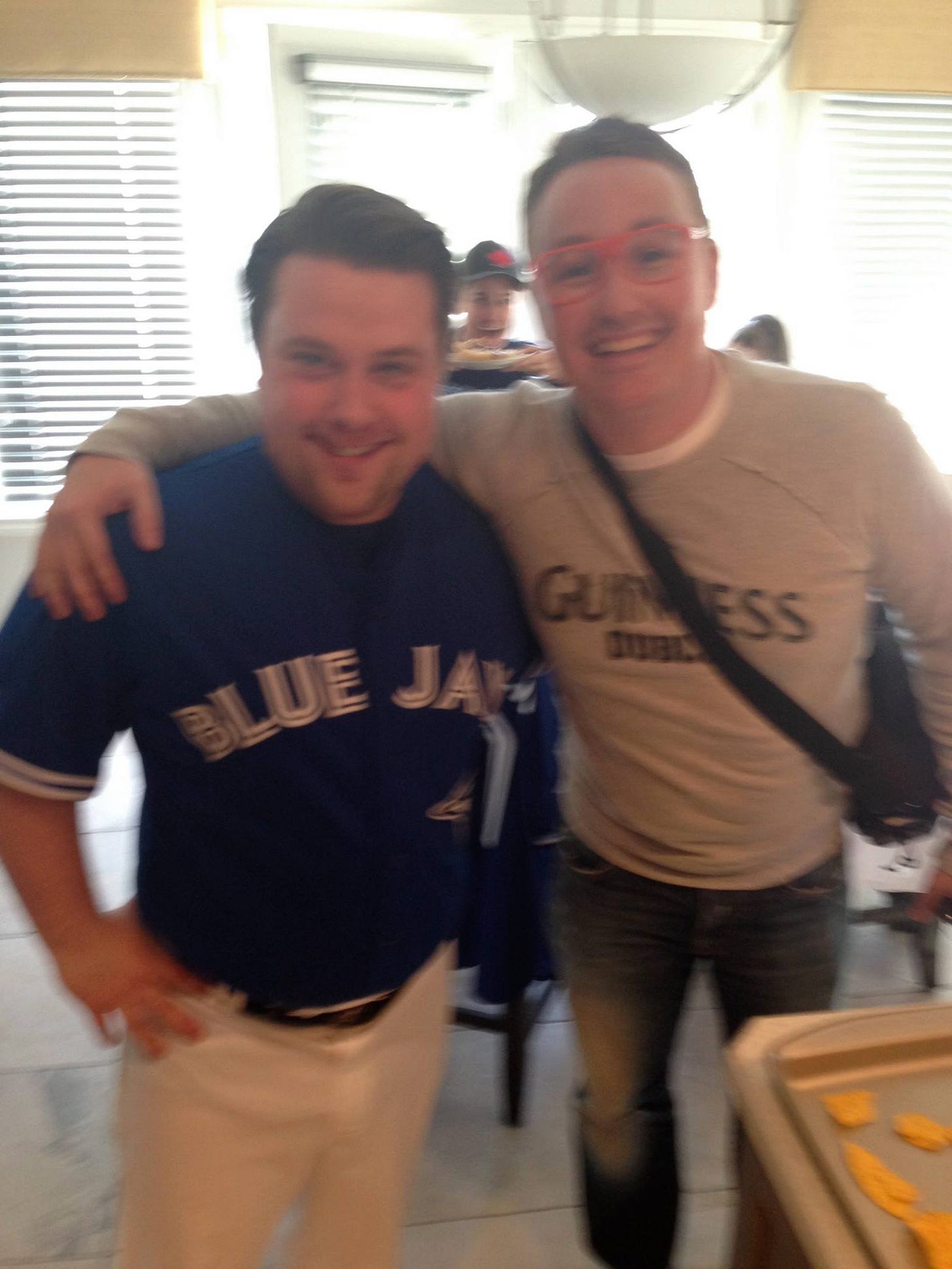 After that, I had the great privilege of being Eric's go-to guy for CBC radio stories on the Blue Jays, which worked out, since that season Toronto ended its decades-long playoff drought, winning the American League East outright, and advancing to the ALCS. Then, famously, I got to attend an ALCS win (covered in a previous blog post) and chatted with CBC about that.
Eventually, Eric's career shifted, and, like me, he became a Communications Director. As others have said, Eric is just about the kindest and friendliest person you can hope to meet. He absolutely loves people, and invests himself in the story of their lives. It's that aspect that fuels his podcast, YXE Underground, where he uses his journalistic abilities to shine a spotlight on the unsung heroes of the Saskatoon community. It sure didn't hurt that the show's very first guest was another one of my best pals, the great Mike Fisher, but even if he weren't profiling good pals and collaborators, Eric's passion for people has managed to create the very best podcast in Saskatoon. Keeping the local flavour, I have had the great honour of creating the promotional poster for the past few seasons of Eric's podcast.

The first poster we literally wanted to focus on the "under" part of Saskatoon. The bridges in our city are so iconic, we wanted to play with that concept, and show them from a different angle, the same way Eric's show manages to do that—revealing unseen aspects of our community. So we showcased the highly recognizable Broadway Bridge, but from a unique, underground angle. And because the first episode with Mike involved comic book culture, we took a page out of the comics, and had the skyline lit up with a Bat-Signal-like spotlight bearing the YXE Underground logo (created by another local designer, Craig Wilson).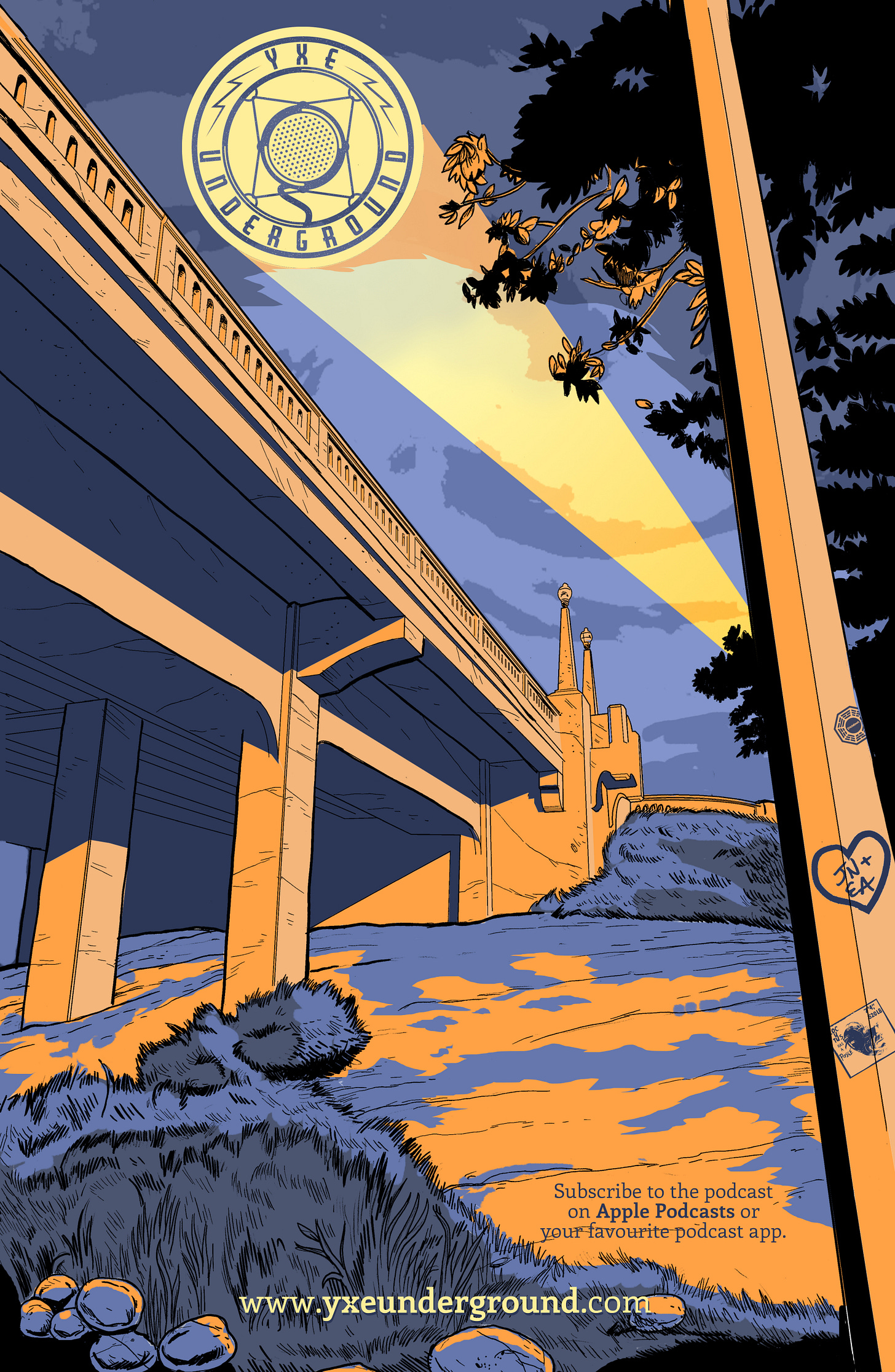 The light standard bears some stickers and graffiti as under-the-radar references represent some different members of our friend group. Eric and his wife Jen are represented by the heart initials; friend and tastemaker Craig Silliphant is represented by the Shepard Fairey inspired "Locutus has a Posse" sticker; the aforementioned Mike Fisher is represented by the rocks at the base of the poster (Mike would decorate rocks on his outdoor hikes and leave them for others to find); and finally, I'm represented by the Dharma Initiative sticker, as my favourite show of all-time is LOST.

For the next season, Eric wanted to subtly focus on safe affordable housing in Saskatoon specifically, so I came up with a few different sketches (never before seen, apart from Eric!).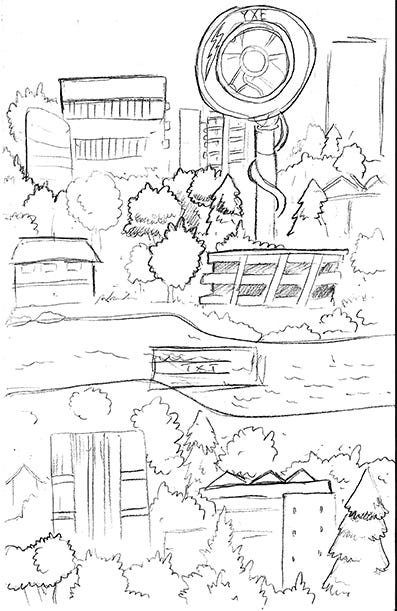 The first sketch (above) snuck the microphone from Craig Wilson's logo into a stylized Saskatoon riverbank, complete with different forms of housing.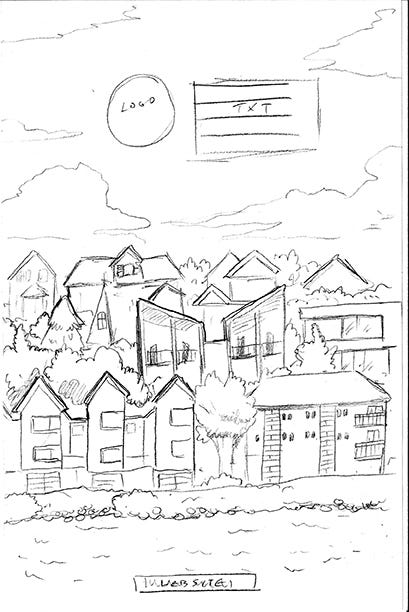 The second sketch dealt exclusively with housing, but without the microphone connection.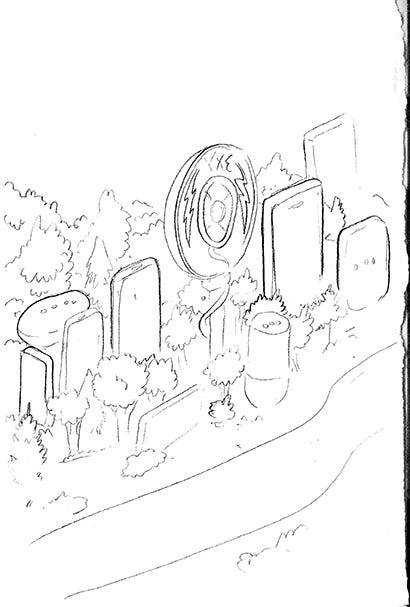 The third sketch got a little more symbolic with the idea of housing, and reinforced the concept of radio/podcasting, as the "housing" on Saskatoon's iconic riverbank was now made up entirely of different digital speakers and radios. But centrally was the microphone from Eric's podcast. The main concept I wanted to highlight here was that in a world of people broadcasting outward (represented by the speakers), Eric is someone actively listening. That's the concept Eric chose to move forward with, so I moved forward. Here's a look at how that poster came out: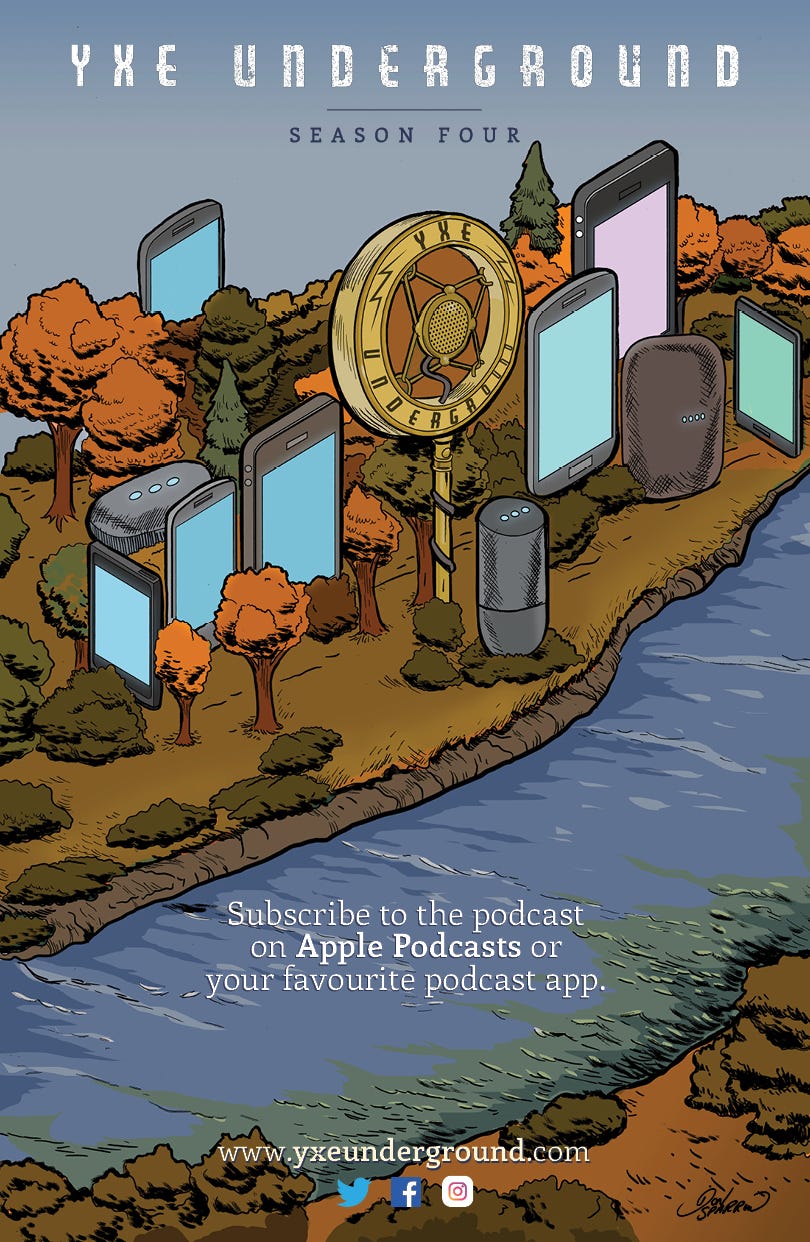 And as a bonus treat, here's a summer version of the poster which was never released (we went with Autumn colours, as the new season was being released in the Fall season):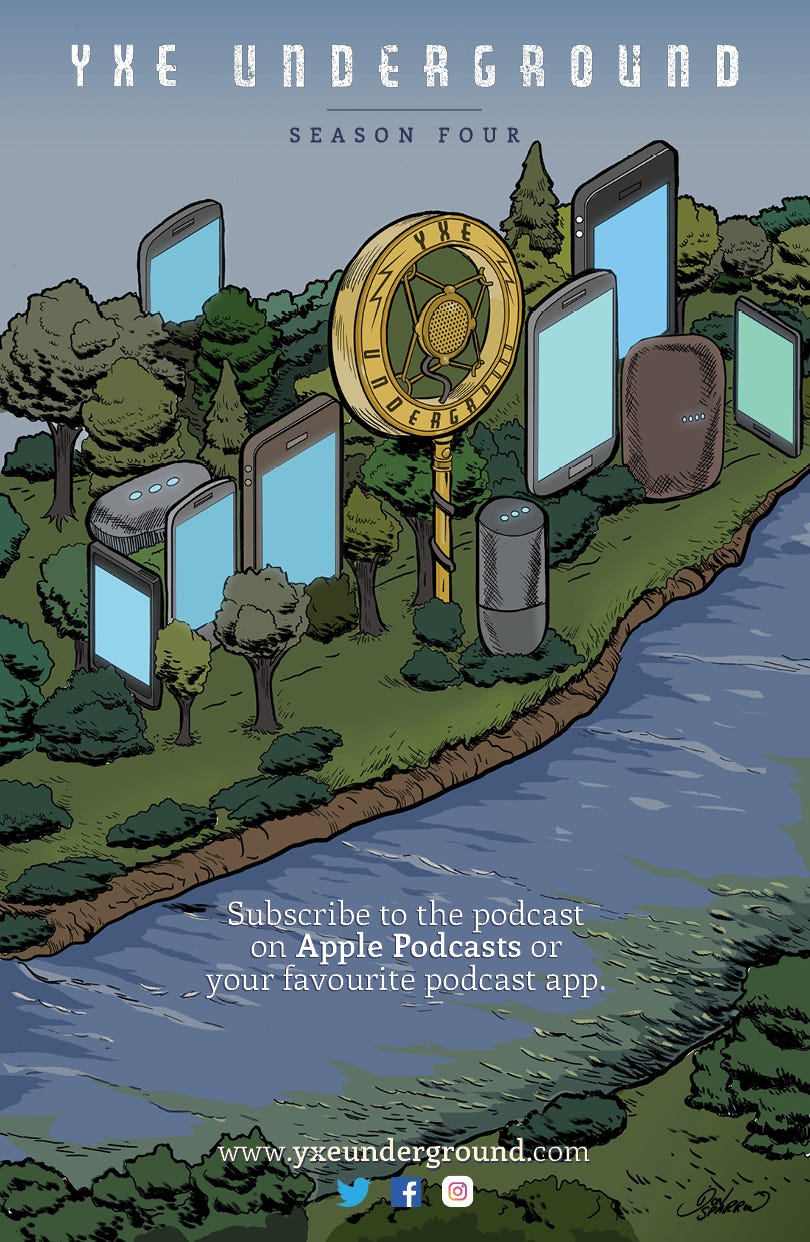 For the next iteration of the show, we worked with the concept of Saskatoon's past, present and future. So I had two concepts to represent that. We stayed once again with the iconic riverbank imagery, this time focusing on the lasting symbol of Saskatoon's Vimy Memorial, erected in 1937. The first concept was to juxtapose this vintage icon of Saskatoon with a completely futuristic landscape: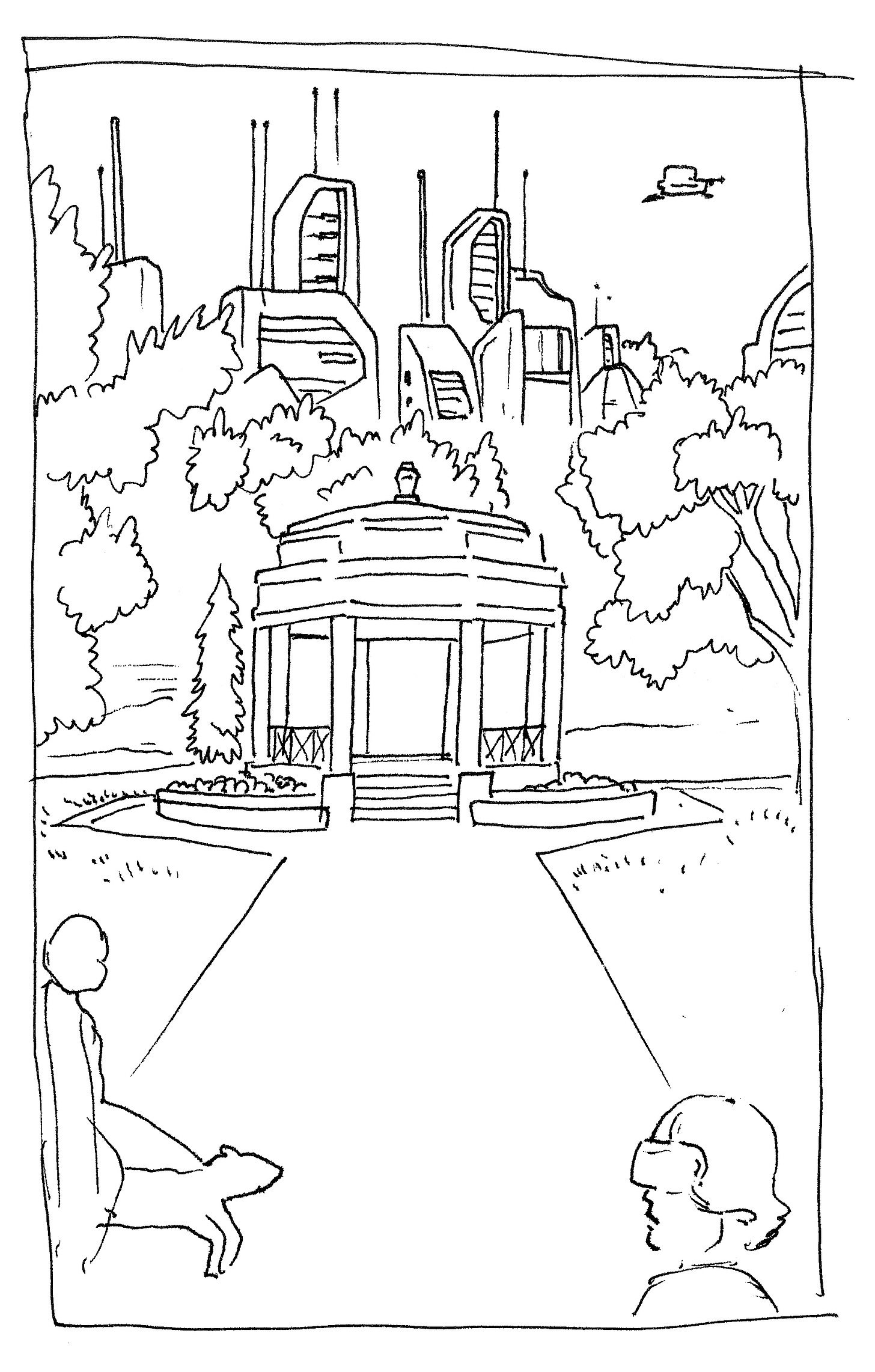 The other concept was again to focus on the Vimy Memorial, but to make the connection between the passage of time a little more explicit, showing different eras that the Vimy had "seen", from the post-war era, to modern times, all the way into an imagined future Saskatoon.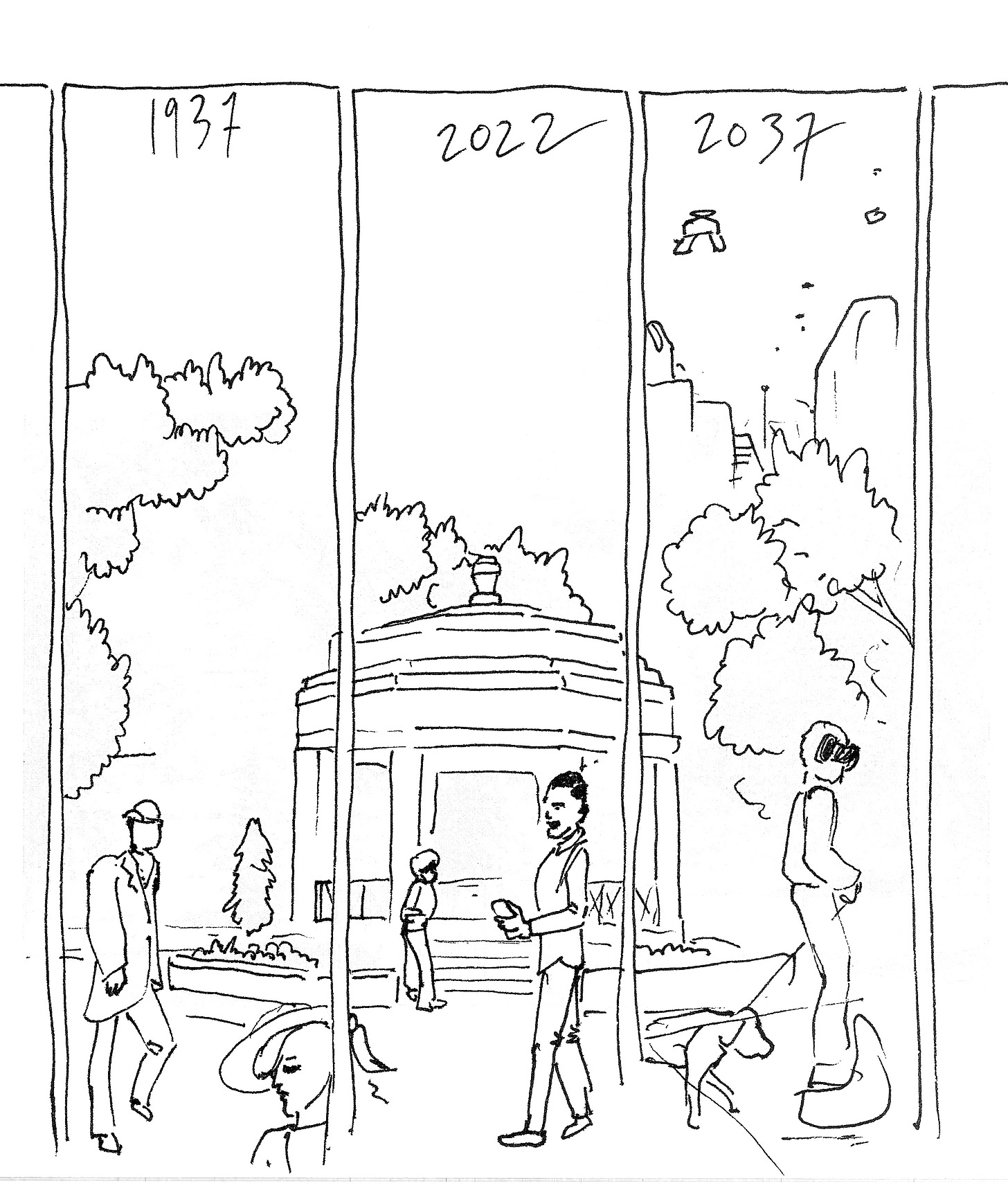 It was this concept that Eric latched onto, and so we moved onto final artwork: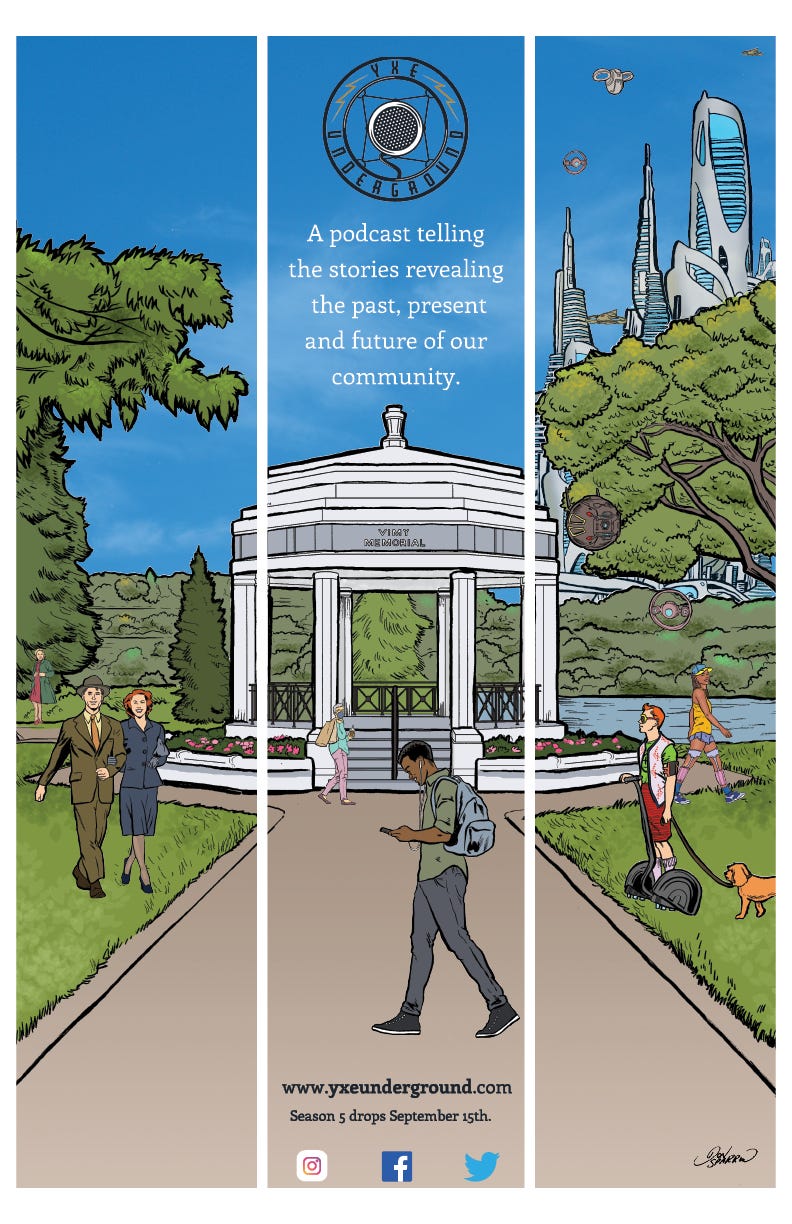 As a blog-exclusive Easter egg, here's a look at the same poster with alternate colouring, denoting the eras a little more deliberately…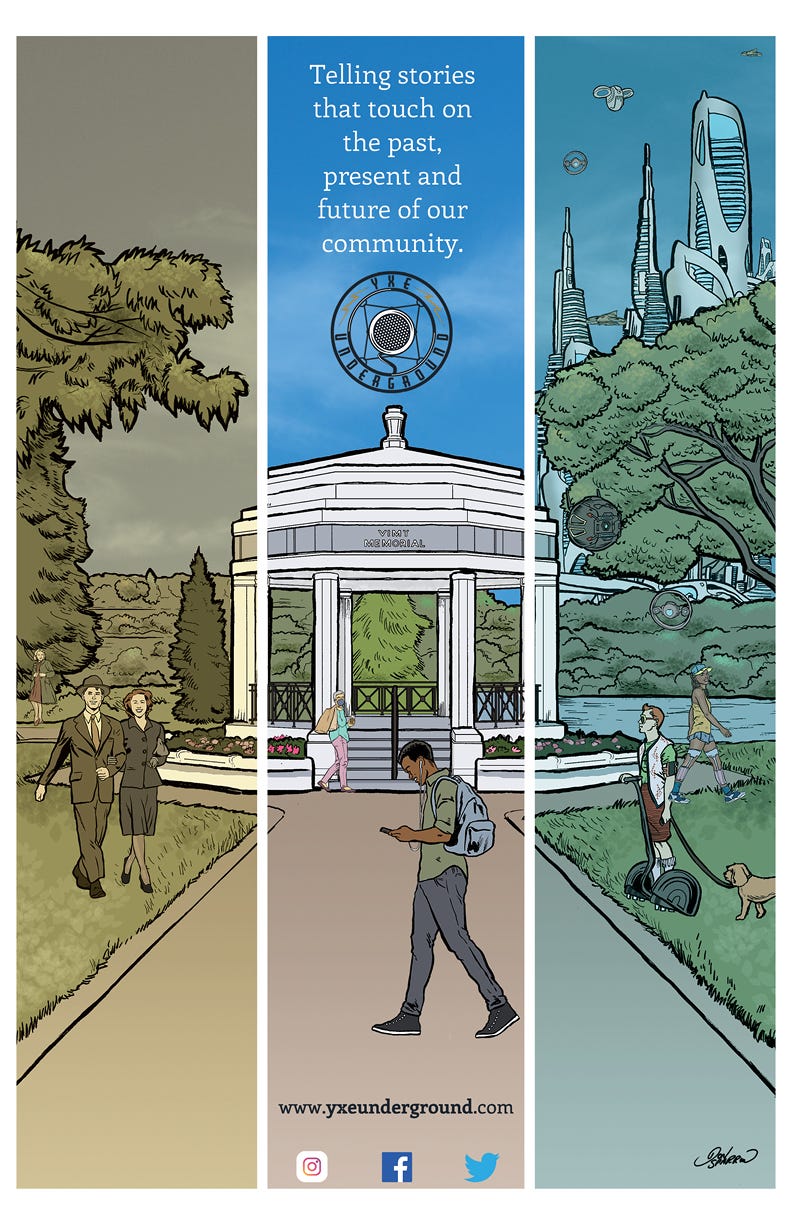 So there you have it, three posters for the best Saskatoon podcast going. I am extremely lucky to have my work in any way associated with the show, and even more fortunate to call Eric one of my best pals. No hyperbole, I know few friends as kind, loyal and dedicated as Eric Anderson.

You can listen to his show at yxeunderground.com.
If you're interested in having a poster designed, shoot me an e-mail through my site at donsparrow.com, I'd love to collaborate.
I'm hoping to have another quick cleanup post soon, spotlighting a couple of recent logo jobs, and blog posts over at my Superman blog.
Thanks for reading, I love you.