Hello friend! Thanks for sticking with me! With the 2022 Gateway Festival happening this weekend, I thought it would be a good time to take a look back on my fruitful collaboration with the annual music fest.
According to the Gateway site, "Gateway Festival takes place on the fourth weekend of July every summer in beautiful Bengough, Saskatchewan. We have a committed focus on music, family, and community. The festival began 18 years ago as a community fundraiser and has grown to an annual event that draws thousands of folks to our friendly town with a population of 332. In addition to the music that happens across three stages, we have food trucks, artisans, pancake breakfasts, a car show, children's activities and much more. Be sure to visit the outdoor swimming pool, shop on Main Street, and make a trip to the Big Muddy."
Since 2013, I have had the great honour of collaborating with Gateway's Artistic Director (and gifted musician in his own right), Michael Dawson on the visual identity for the festival. This has often meant drawing the posters, but in recent years has expanded more generally to all kinds of graphics. Let's take a chronological look back at some of concepts we've created together.
2013
My first year working with Gateway, my approach was quite a simple one, with generic musicians in front of Gateway's signature location of Big Muddy, SK. Looking back, I have to laugh a little at how stiffly posed the group is (to say nothing of how the banjo player unintentionally looks like The Beverly Hillbillies' Buddy Epsen.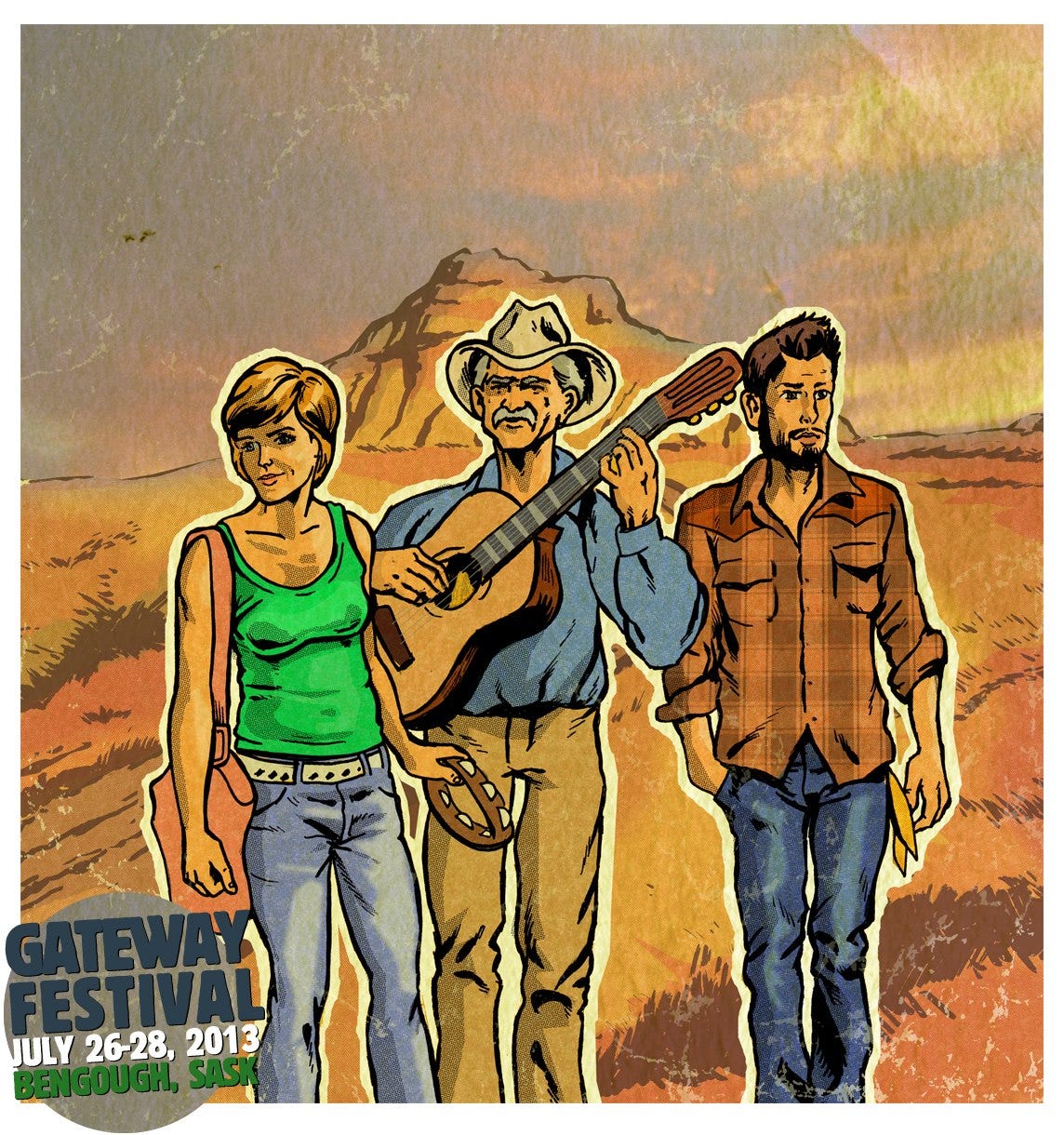 We also did alternate versions featuring some of the individual acts from that show, with legendary singer/songwriter Steve Earle being the most famous headliner: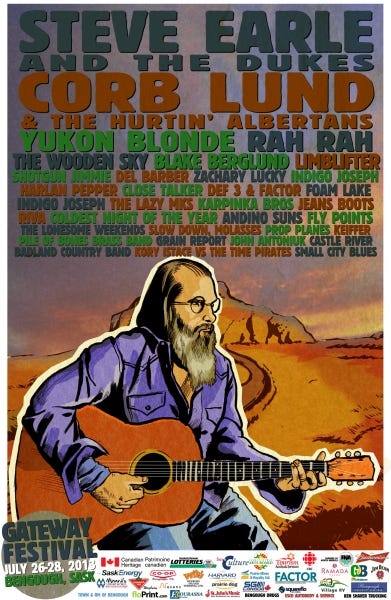 I also got the chance to draw some other acts, like the great Jeans Boots…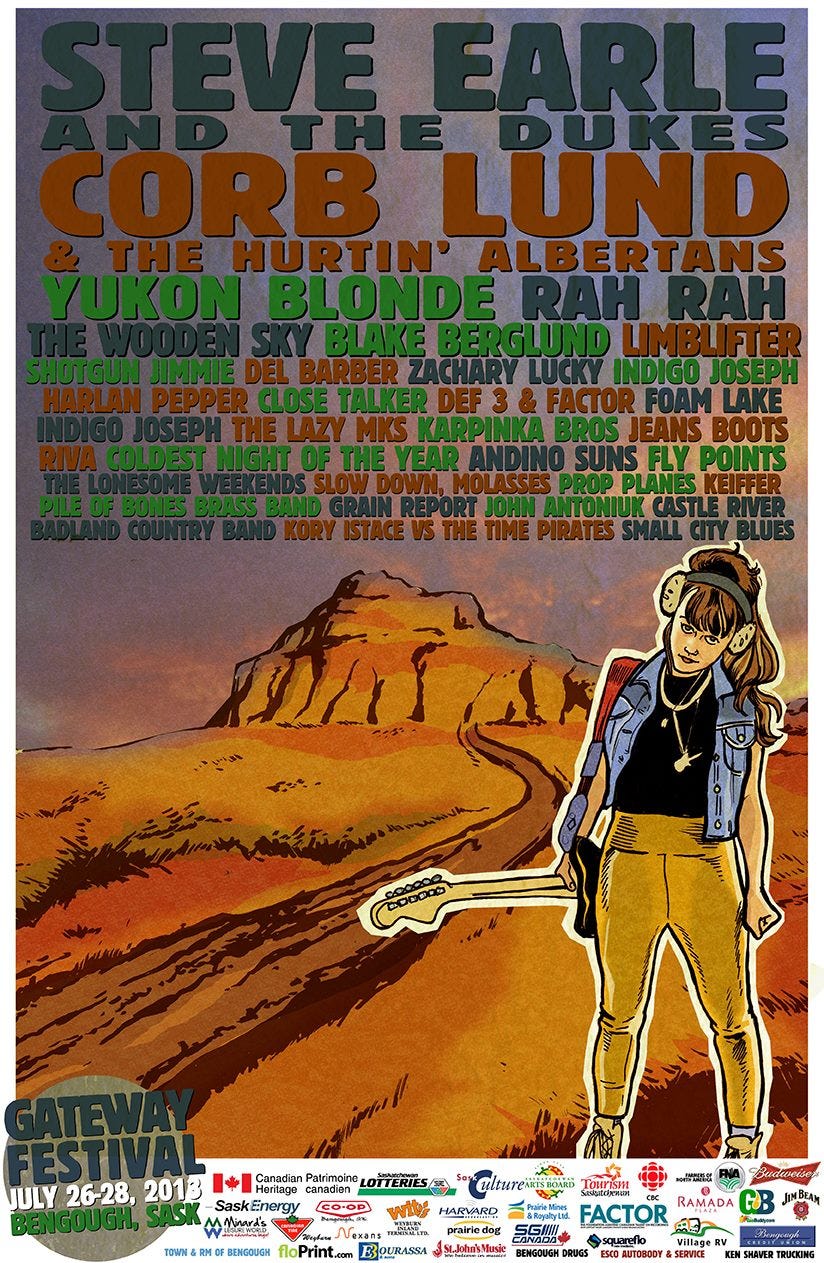 And Corb Lund…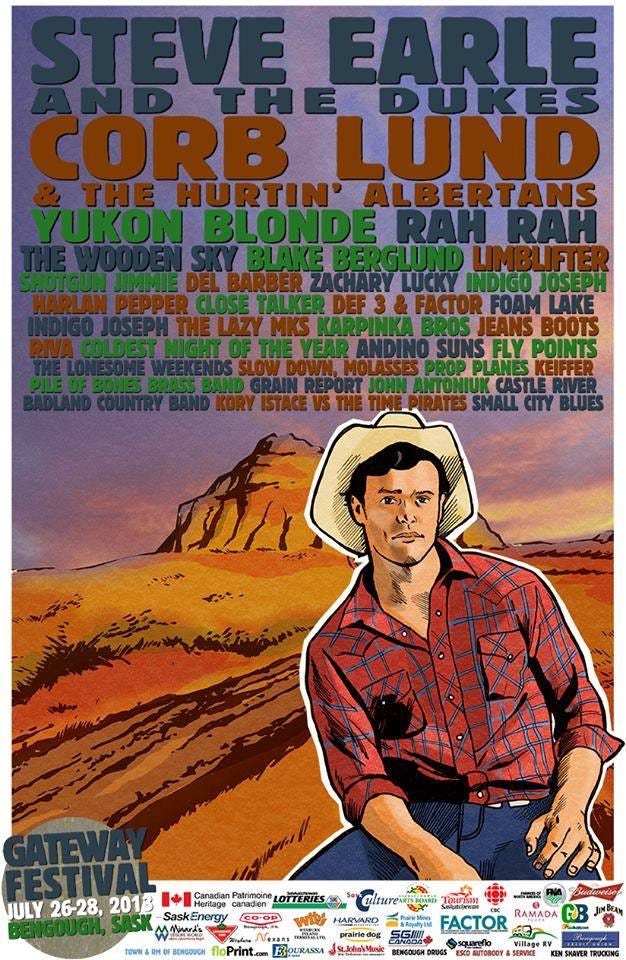 2014
The following year was the Festival's 10th Anniversary, and Michael directed me to have a wolf theme, with a hand-drawn looking constellation for the anniversary. Looking back I wish the "10th Anniversary" were a little more legible…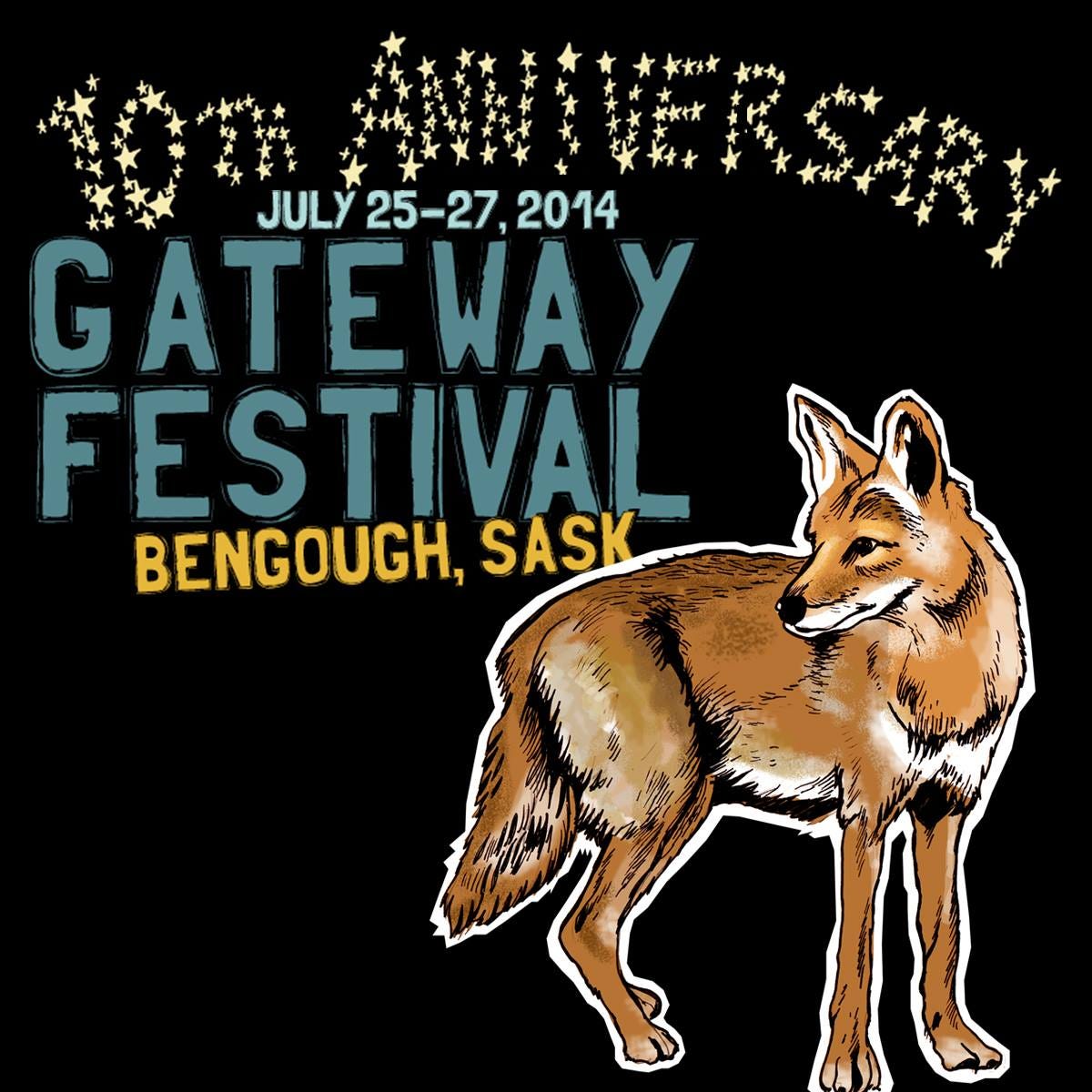 This poster was extra special, as I grew up listening to the Northern Pikes (they were even my first concert, at age TEN!) so it was a personal thrill to see their name on something I'd helped create:
2015
Starting in 2015, Michael began cleverly using the poster to hint at one of the headliners. For the 2015 poster, we moved away slightly from the Big Muddy backdrop, instead opting for a typically Saskatchewan lake scene. Here's how the teaser image for the show looked: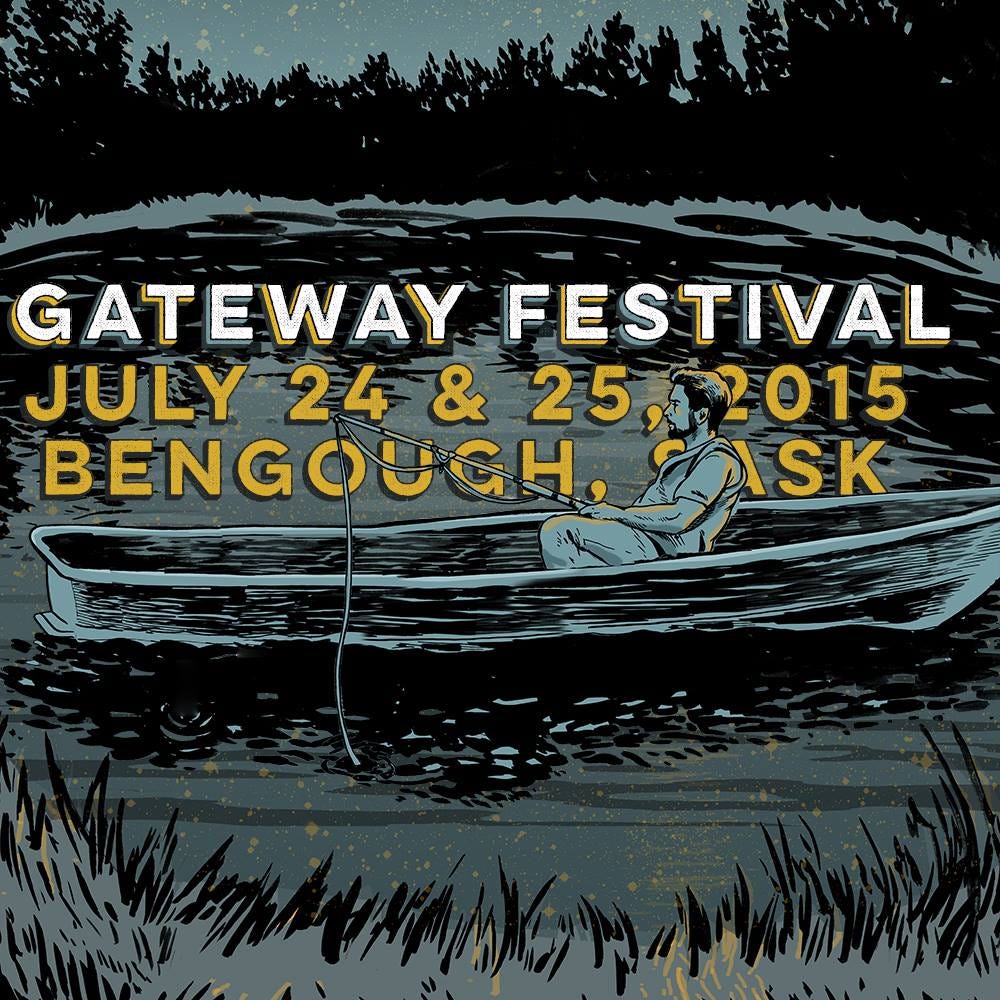 The lone character (who I designed to look a little like the plaid-shirted fellow from the 2013 poster) in a boat under the moonlight was a subtle tease of that year's headliner, The Nitty Gritty Dirt Band, whose song "Fishing in the Dark" was one of their more monster hits. Here's how the finished poster looked once lettered by Michael: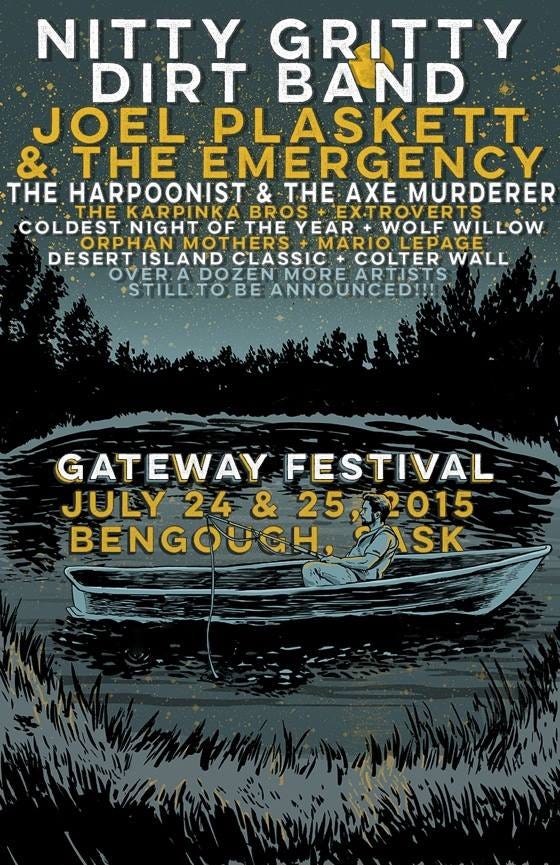 As a fun treat, here's an unused alternate version, with a gal in the canoe along with our solitary figure—again, reminiscent of the tambourine player from 2013's poster.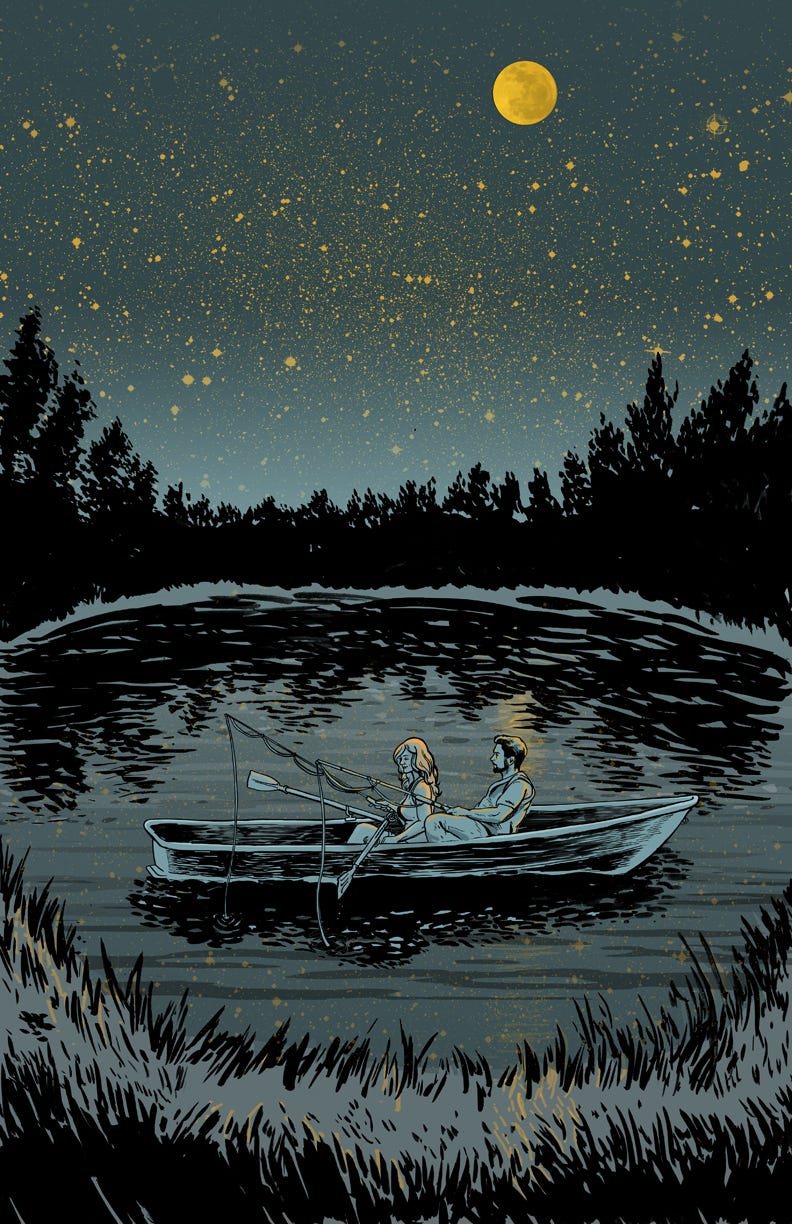 Stay tuned for Gateway to Art Part 2, later this week! Thanks for reading, I love you.